New Port Richey's Loquat Festival Blooms Tomorrow at Frances Ave Park
The 4th Annual Loquat Festival comes to town this Saturday, April 8th from 9:00 AM to 2:00 PM at Frances Avenue Park on Louisiana Avenue. The festival, dedicated solely to the loquat tree, what organizers classify as an "urban fruit", explores the benefits and enormous potential of the tree.
Technically a non-native Florida tree, the Loquat Tree (Erioboytrya japonica) is easily controlled and does not spread well without assistance. It also is an extremely prolific tree with even full-sized specimens producing hundreds of pounds of fruit. The tree is also remarkable for its ability to grow in contained spaces. It is friendly to driveways and sidewalks, and will happily grow in a wide range of conditions. It is drought tolerant, freeze tolerant, and requires little or no fertilizer.
Organizers have asked attendees to bring their own seating if possible due to a shortage of available chairs at the event site.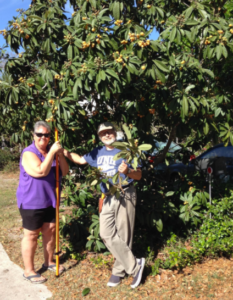 ---
Directions
Placed signage on major roads should help to direct you to the park.
PROGRAM
This year's educational features will be better than ever, and the cultural lecture will address the relevance of loquats to Florida in a time of cultural change. Of course, you'll find plenty of trees, preserves, and some special new cottage food specialties.  Fresh fruit may be a bit less than previous years due to our very hot and dry winter.   Here is the program:
10:00 a.m.
Welcome and Introduction
Dell deChant, Chair, Religious Studies Dept., University of South Florida
Proclamation & Welcome to New Port Richey
Rob Marlow, Mayor of New Port Richey
The Florida Loquat Festival Story & History
10:30 a.m.
Supporters' Recognition & Comments
10:45 a.m.
Our Local Trees & Growing Your Own
11:00 a.m.
Loquats From Farm To Table: Canning & Beyond * Sue Andreski, Black Cat Kitchens
11:30 a.m. -12:00 noon
Loquats & The Florida Homestead * Jim Kovaleski, Freedom House Farms
12:00 – 12:15 p.m.
Special Announcement: New Port Richey FarmNet
Anne Short, FarmNet and Jake Pieterse, Habitat for Humanity
12:15-12:30 p.m.
Special Guest
12:30 p.m.
Loquats & Our Changing World * Dell deChant, USF
1:00 p.m.
Loquat Literary Festival: "O! Loquat!"
Ryan Cheng and Lacie Meier, MFA Program, Dept. of English, USF, Facilitators
2:00 p.m.
Concluding Comments
Supporters' Recognition and Thanks
Festival Items: Suggested Donations
Festival T-Shirt $15.00
2017 Commemorative Brochure $  5.00
Leaves of Loquat 2015 (poetry collection) $  5.00
10 Seeds From Seed-germinated trees $  1.00
What to Expect

As always, this is a Loquat Exclusive event. Only loquats and loquat-related products will be available.  Lectures, demonstrations, and educational sessions will be dedicated solely to loquats. The literary festival at the event will also focus exclusively on loquats.  At the event, look for:

Trees (from young saplings to 6-8 ft. trees – grafted and seed-grown)

Fertile Seeds for planting

Loquat food-products (jellies, jams, preserves – and  few surprises)

Educational Programs (growing, harvesting, canning, cooking)

Culture and Humanities (poetry, history, philosophy)

Literature (commemorative brochure (with recipes, poetry chapbook)

Event T-Shirt, with distinctive Loquat Festival logo

Fresh Loquats (somewhat limited this year due to early harvests)

This year we'll feature two nurseries – Green Dreams and Friendship Farms & Fare.  So, we'll have plenty of trees of all sizes.  We will also have a wide variety this year.  

Our nurseries will have seedlings, young trees, larger trees – some over five feet tall.  Our harvesting teams will have as much fresh fruit as possible.  Local cottage food producers will have loquat preserves (jellies, jams, compotes, and preserves).  As always, we'll give away loquat seeds to the first one hundred folks who show up – and more if possible.  

The educational programs will be better than ever, and the cultural lecture will address the relevance of loquats in a time of cultural change. Of course, you'll find fresh loquats, and we may also have some loquat specialties from local restaurants.  

Bring a poem or a poet to the event because we'll again have our open mic.  We'll also have several poems submitted through USF's MFA program in literature. We'll also have the first edition of Leaves of Loquat, the collected poems from 2015 year's poetry session.  We may even have Leaves of Loquat, vol. II, with our 2016 collection.

We'll have new festival T-shirts, featuring the beautiful Loquat Festival logo on the front (did you know that the background of the logo is a map of the city of New Port Richey?), and on back we'll have the sponsors and supporters of this year's event.  This year, the shirts will be yellow – very striking!